Why Should You Buy a New Hyundai Sonata?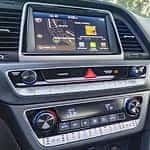 The reasons to buy a new Hyundai Sonata are numerous, here are two features that make this a popular midsize sedan.
The all-new Hyundai Sonata is going to reduce incidents of distracted or tired driving by way of the Lane-Keeping System. If the system detects the vehicle slowly moving over the lane lines, the steering wheel vibrates like when you ride those rumble strips on the shoulder and gives you time to take corrective action.
Your Hyundai Sonata will make driving at high speeds safer because the Blind Spot Information System makes certain you won't leave your lane unless safe. The system scans the blind spots around the car if a vehicle is in that space, your side mirrors will begin to flash so you know which lane to avoid.
Test drive the all-new Hyundai Sonata if you can get down to Straub Automotive because it is here on our lot.