The Dodge Durango Has Great Driving Components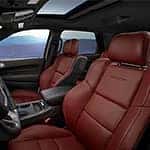 The Dodge Durango's all-wheel drive system can handle a variety of terrains. This automobile can be equipped with one of two engines. Whether you pick the V6 or the V8, the Durango will still provide great speed, horsepower, and traction on the road.
Traction impacts towing performance, which is why the Durango has a strategic 50/50 weight distribution system that manages tire control. As this system balances weight, a highly efficient transmission helps the engine reach higher speeds while the Durango pulls cargo. Thanks to the Class-Exclusive transmission hardware, shifting happens quickly and effortlessly. The process of using the eight-speed transmission during a towing routine is simple because the Durango is equipped with convenient paddle shifters.
Straub Automotive at the Highlands is a local dealership that sells new Dodge Durango automobiles. If you want to experience how the Durango performs and operates, consider taking a test drive.