Superior Performance in the Nissan 370Z Roadster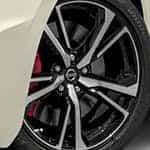 If you're looking for a sports car that can provide you with a dynamic driving experience, give the new Nissan 370Z Roadster a shot. You can get this popular sports car at our Nissan dealership. It's packing a powerful engine that's designed with superior performance and efficiency in mind.
When you take a look under the hood at our showroom, you'll find a solid V6 engine. It's a 3.7-liter engine that pumps out 332 horsepower and 270 pound-foot of torque. Beyond its impressive statistics, the engine is engineered to perform well. It has a continuously variable valve timing system.
The system makes sure that the valve's lift and timing are synched perfectly. This improves performance and conserves fuel. Another feature that enhances the engine's efficiency is its lightweight materials. It has a carbon fiber composite driveshaft. There's also a carbon fiber radiator support structure. Despite the light weight of the material, it's incredibly durable.