Nissan LEAF Delivers Ultimate in Charging Convenience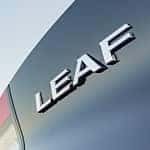 It is no wonder that you are seeing so many Nissan LEAF models on the roads these days. This popular electric vehicle hits all of the high notes with its expert styling, its impressive performance features, and its great driving range combined with easy charging capabilities.
The LEAF offers three distinct types of charging to provide owners with the ultimate in cost savings convenience. Choose from the normal level 2 charging, quick chargers found at a variety of public charging stations easily located through the navigation screen, or the trickle charge that enables drivers to charge using a regular wall outlet when a quick charge is necessary to get back out on the road.
Nissan is so confident in the ability and capability of the LEAF battery that it offers a comprehensive lithium-ion battery limited warranty. This service is good for eight years or 100,000 miles, whichever comes first.