Hyundai Elantra – What a Value!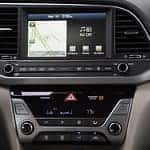 With the high price of vehicles and the fluctuating economy, shoppers are looking for good value cars that offer reliable service, good performance, stylish designs and the latest in technology. The new Hyundai Elantra, a popular compact sedan, is often their vehicle of choice. Stop at Straub Automotive and see for yourself why so many shoppers are choosing the 2018 Hyundai Elantra.
There are so many reasons why the new Hyundai Elantra is the ideal sedan for individuals, small families and inexperienced teen drivers.
• Won 2018 Top Safety Pick Award
• Has America's Best Warranty™
• Offer many safety features like Lane Departure Warning, Rearview Camera & Blind Spot Detection
• Offers compatibility with smart devices
If you're ready to join the many drivers who are choosing the Hyundai Elantra as their favorite vehicle, visit our showroom in Triadelphia, take one out for a test drive and experience a truly exhilarating ride.