How the Aesthetic Features of the Jeep Cherokee Makes Things Easier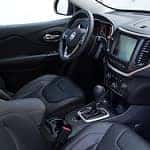 If you are impressed with how good the new Jeep Cherokee looks, then you are going to be even more impressed with what you can get from the vehicle as a whole. You will have an easier time doing various things with the Cherokee. This is why we at Straub Automotive strongly recommend that you at least take a look at the Cherokee.
When filling up the gas tank, there often is something frustrating that people have to deal with. That frustrating thing is the fuel cap. For many people, it gets in the way. The Jeep Cherokee addresses that by removing the fuel cap with the capless fuel filler door.
A similar frustration can occur when filling up the tires. In this case, you are not going to know in most cases when the tire is at a good air pressure level. Fortunately, the tire fill notification feature lets you know when you have enough air.