High-Tech Luxury in the 2018 Nissan Maxima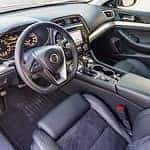 The 2018 Nissan Maxima is a popular luxury sports sedan that's built for the modern driver. It's equipped with all the technology you would ever need to stay connected, informed, and entertained.
The Maxima uses an advanced infotainment center. It features a large 8-inch touch screen that responds to your touch much like a tablet would. You can pinch, swipe, zoom, and so much more. The interface is intuitive and responsive. If you don't want to use the screen, you can also use the Display Commander. Installed in the center console, this small knob allows you take control without having to look at the screen. It's conveniently located and easy to operate.
Interested in taking the 2018 Nissan Maxima for a test drive? We invite you to stop by our showroom at Straub Automotive at the Highlands today. Our team is committed to helping you find the right car for your needs.