Create Your Personal Space in the Nissan Kicks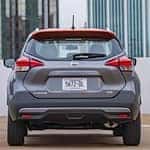 Whether you want to enjoy music with your passengers or want to keep things quiet and keep the music to yourself, the Nissan Kicks has the technology to make it happen. This all-new subcompact SUV is available to drivers with a unique audio system that lets you customize the sound output to fit your needs.
The Bose Personal Plus sound system is available on many models from Straub Automotive @ The Highlands. This system features an array of speakers around the cabin. Each speaker is made of high-quality materials and utilizes innovative technology from Bose. Audio from the infotainment center will sound crisp and lifelike.
One of the most unique features of this system is the ability to create a personal listening space. The driver's seat has speakers built into the headrest. If your passengers need some quiet time, you can adjust the PersonalSpace Controller and continue to jam out while you drive.