Choose Your Own Adventure With the Jeep Wrangler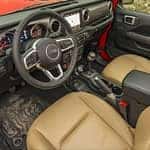 Suitable for all types of terrain, the Jeep Wrangler is a great choice for everything from driving down the asphalt to roaring through the sand dunes. It has a powerful engine with both on- and off-roading capabilities, so it won't hold you back from any of life's challenges.
Its water-resistant materials and sealed electrical connections mean that you can take it through any river. Its high ground clearance will keep you from scraping its undercarriage on rocks, branches and other debris. Its wheels will give you maximum traction in any weather condition, and its good suspension will make it easy to maneuver.
If you're looking for a heavy-duty vehicle, consider the Jeep Wrangler. Not only will it support you on the roads, but it can take you even beyond the street signs and into truly uncharted territory. Just let us know at Straub Automotive if you'd like to take one for a test drive.